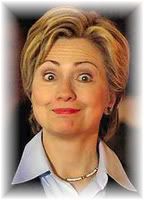 Is it just me or is Hillary starting to sound like someone else we know?
No, that isn't a direct quote. But remember once, she was
for
the war in Iraq and now she all of a sudden isn't. Suppose it has anything to do with a popularity contest?
Anyway, from
here we have:
"I don't think there's a woman here who thinks that sometimes you just have to try harder," she [Hillary] said.
Hmm. She's probably right. No woman thinks she has to try harder.
[sarcasm]